Optimize The Candidate Journey With TalentCloud Integration
Talent acquisition in today's competitive market has become a business of its own.
As reported in MRI Network's
2016 Recruiter & Employer Sentiment Study
, 86% of recruiters and 62% of employers surveyed agreed that 2016 marked the rise of the
candidate-driven
market. This substantial shift means that job seekers are more selective of their preferred employers, especially in the top demanding fields like technology and engineering where skilled workers are limited.
Modern Candidate Journey: What's Changed?
We can talk abundantly about how much the Internet has transformed the world we live in, or more specifically, the way we work.
As for those in the human resources industry, the most significant area that draws much attention is the evolution of the candidate journey, which consists of four main stages: Awareness, Consideration, Interest, and Decision.

Just a decade ago, job seekers still had to go through the mundane job application process, often through ongoing emails and walk-in interviews, with a lengthy cover letter to catch the recruiter's attention. Now, resumes are mostly two-pager in order to be filtered accurately through an applicant tracking system (or also known as recruiting platform).
Besides the obvious impact that technology has on how company recruit employees, the factors that influence a candidate's decision to apply for a job have also evolved throughout the years.
With the endless sources of information available on the Internet, job seekers are less likely to go through the conventional job application process. Instead, a standard job-seeking journey often involves multiple interactions, similar to that of an online shopper.
Google defines the intent-rich interactions that lead to a purchasing decision as "
micro-moments
". In the case of job search, these micro-moments can come from anywhere.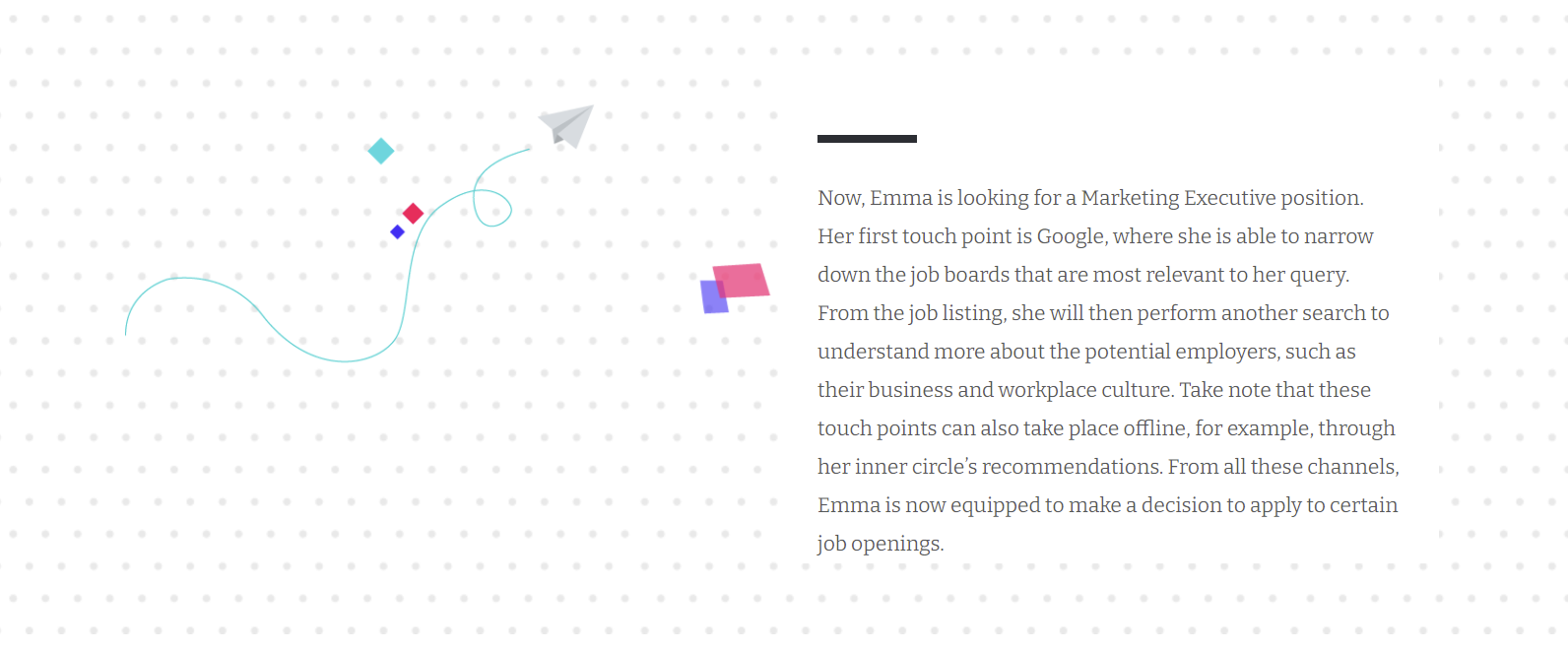 Knowing where the candidates are coming from and what motivate their actions will enable organisations to cater their recruiting strategies to the targeted group of professionals. Given the fact that today's talents are more demanding than ever before, it's a must to attract and engage with them through every micro-moment proactively. In other words, make your brand appear wherever and whenever your potential candidates are.
However, it doesn't stop here.
A candidate journey continues all the way throughout the recruiting funnel. In fact, the actual recruiting race happens during the consideration stage with the focus on candidate experience. Companies that are able to meet the candidate expectations will win the game.
Align The Candidate Journey with Your Recruiting Funnel to Boost Candidate Experience
A candidate journey already sets a fundamental guideline for employers to strategize an effective recruiting funnel that converts the best talents. Despite a candidate's complex journey before he or she arrives at the final application page, a recruiting funnel is a linear outline of what they can expect.
Let's break down a recruiting funnel for clearer visualization: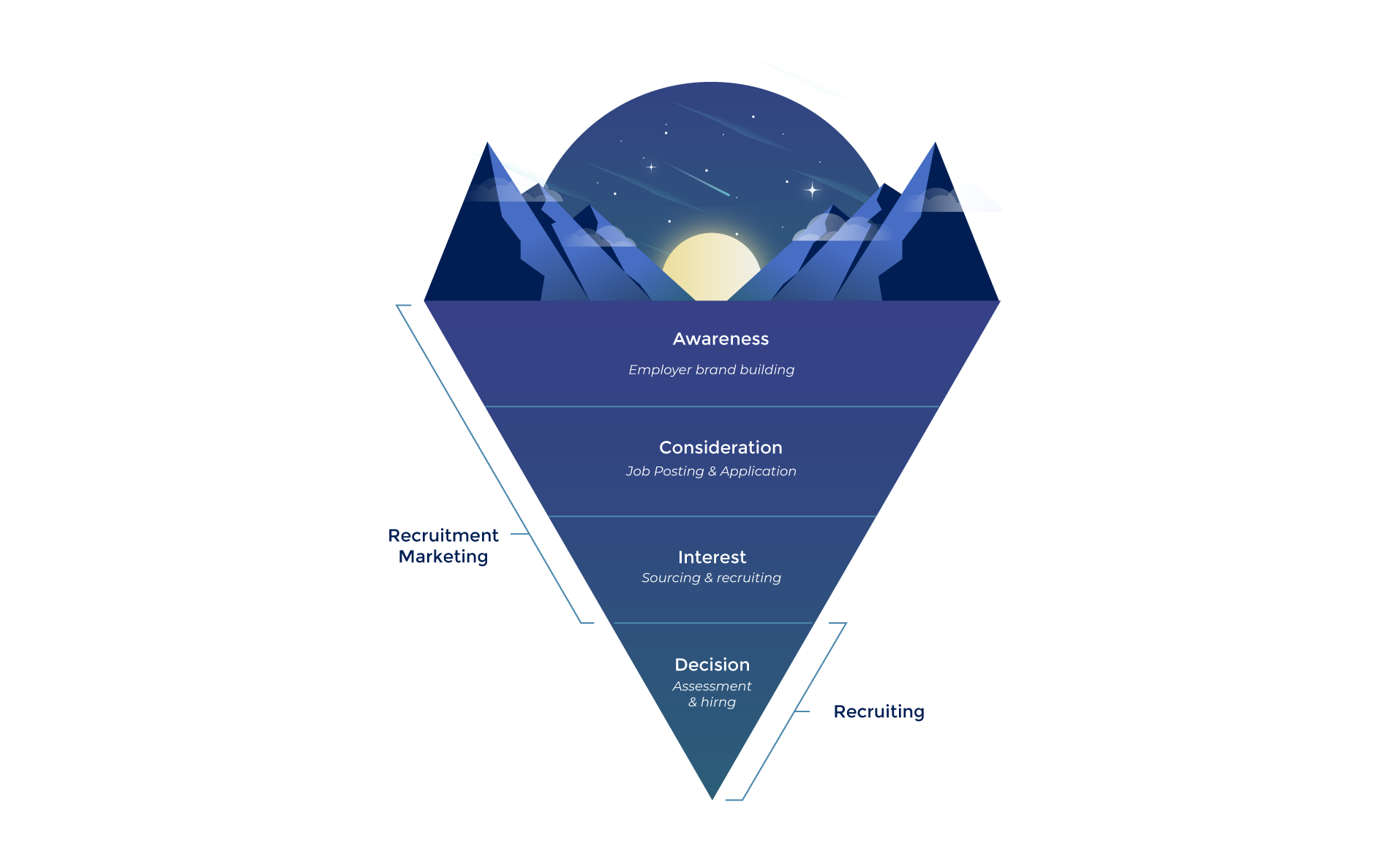 Employer Branding
Put a marketer's thinking hat on and treat your candidates as customers. Similar to any marketing campaign, you must first identify the candidate personas in order to determine the most effective approach.
As a recruiter, the first question you need to ask is: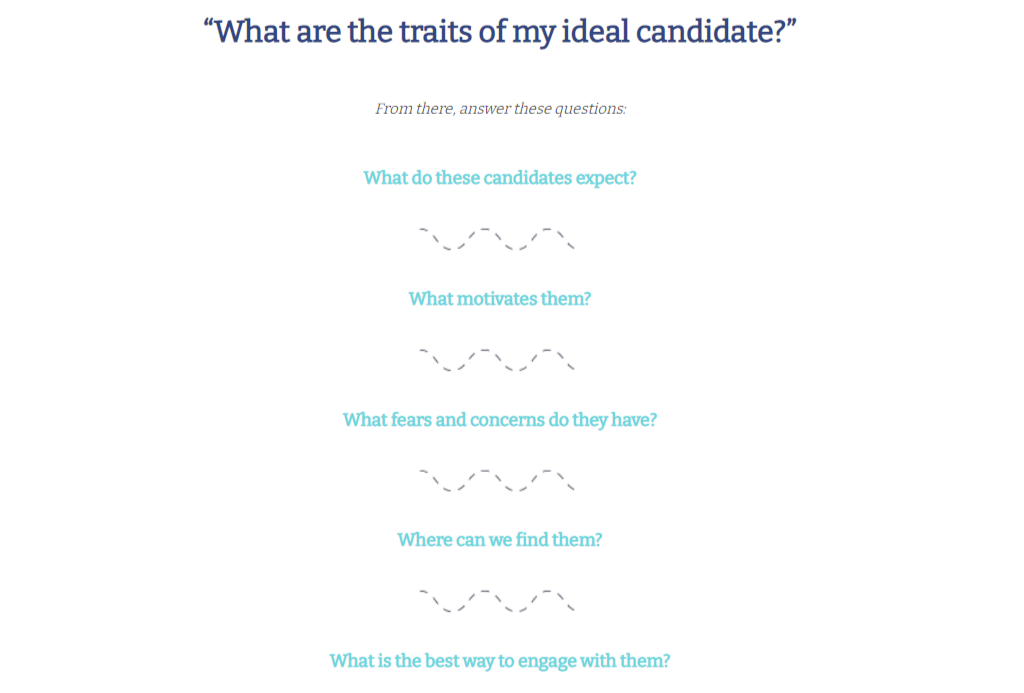 Your recruitment team is able to collect information about job seekers from social networking sites by monitoring the discussions surrounding the HR space. In terms of recruitment analytics, the best source is, of course, from your own talent database.
TalentCloud's reporting feature allows you to analyze the most important metrics such as candidate sources, assessment results, feedbacks, as well as the conversion rate, etc. The goal is to capture the candidate's background, objectives, challenges, where they hangout, and how to approach them. As previously explained, it's crucial to win the micro-moments way before the candidates are ready to apply.
As soon as you have thoroughly profiled your candidate personas, it's time to build the employer brand that both conveys your organisational values and matches these talents' preferences. Through employer branding, you'll be able to
hire culturally fit talents
as well.
Try to communicate the brand values and missions consistently via multiple online assets, such as on review sites or your company page. Do establish a tone of voice that resonates with the targeted candidates. Also, provide insights into the workplace culture, and more importantly, a clear growth plan for every position in the organisation. Below is an example of TalentCloud's career site that is optimized for high candidate engagement: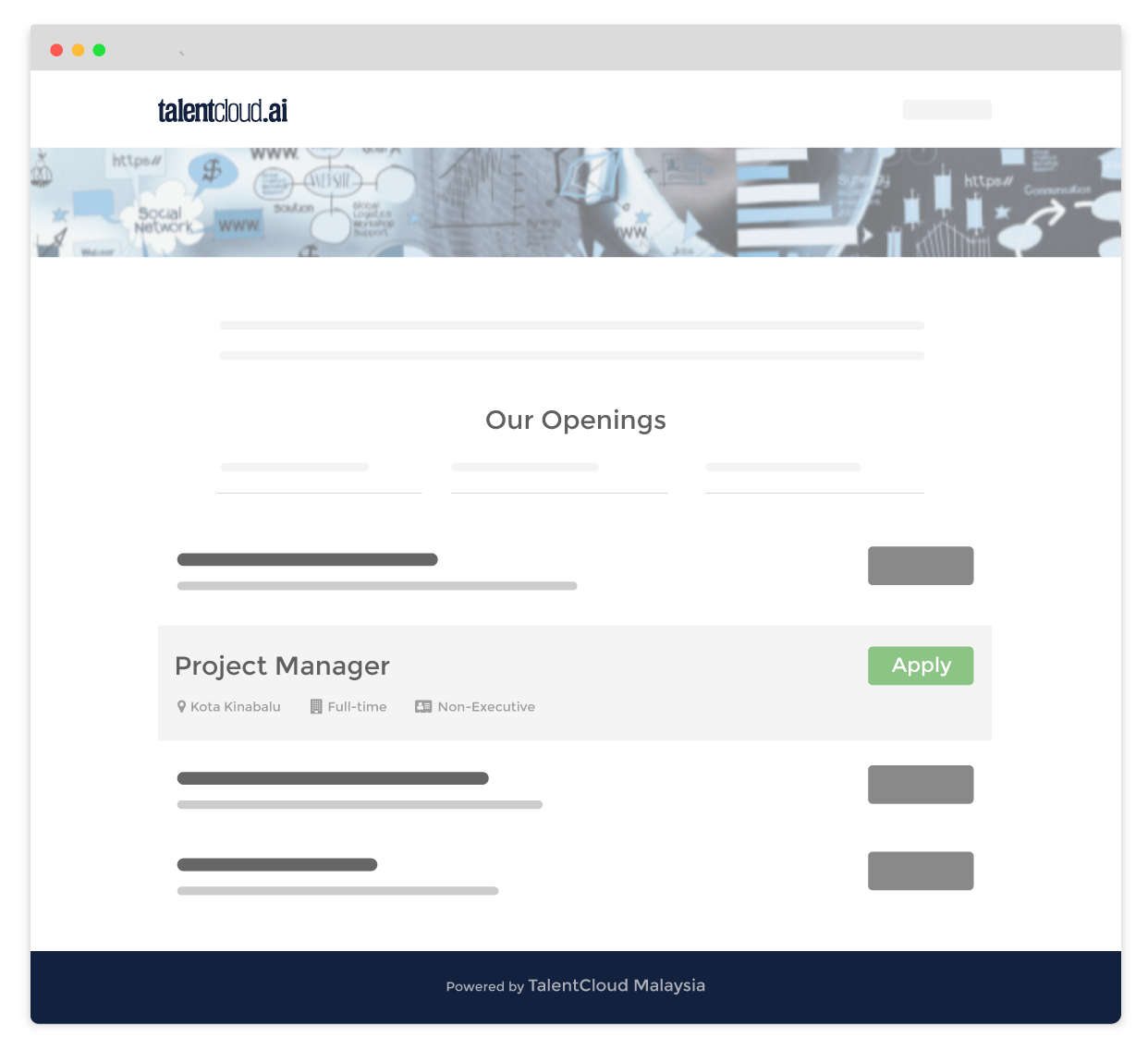 Job Posting and Application
To attract job seekers to your career site is only the first step. The real challenge is to create and maintain a positive candidate experience from the very first touch point – reading the job description.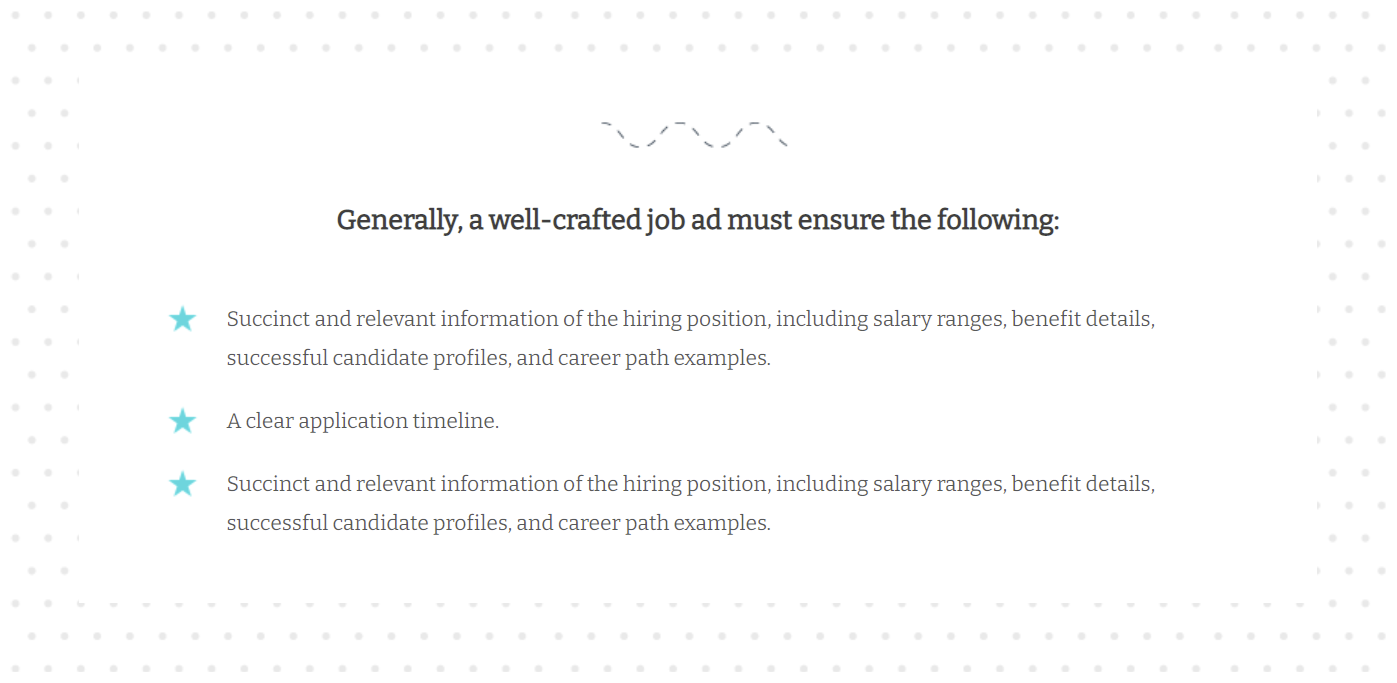 The majority of employers are still relying on specific job boards to advertise their vacancies. The downside of this method is the inability to map the candidate journey to your organisation's recruiting funnel. And the HR team may have to filter out way more unsuitable candidates due to that general approach, which end up costing the company more time and resources.
A good job description, on top of the standard fields like responsibilities and requirements, has to also ensure a certain level of transparency of the hiring process. For example, by specifying the submission deadline as well as what to expect once an application is submitted.
In terms of job application form, a study by
Appcast
reported a whopping 365% decline in application completion if the process takes more than 15 minutes. That being said, you must look into streamlining the application form and bid the
outdated
procedure goodbye in order to keep the candidates engaged.
TalentCloud improves the candidate experience by simplifying the application process in these aspects:

The platform also enables multiple ways for your candidates to submit job applications, for instance via direct resume upload or social networking accounts. On top of that, you can even capture leads as the candidates are encouraged to deposit their resumes if there's no suitable openings. Essentially, this configuration (as compared to the common job boards) helps to shorten the candidate journey by eliminating the research aspect out of their job seeking journey.
Sourcing and Recruiting
One of the major factors affecting candidate experience is the lack of communication. It's frustrating for anyone to endure the "silent treatment", let alone in circumstances that determine one's career prospect.
Since the dawn of job boards, employers had already made it a practice to only communicate with successful candidates. Therefore, the majority of job seekers don't really expect to hear from all the companies where they submitted the resumes to. In fact, only a handful of them are confident that their applications are being viewed.

You can only select one perfect candidate for one position at a time, but what about the "runner-ups"?.
The role of a human resource professional is to nurture talent, so it doesn't make sense that you close the doors to talents the moment they are not selected for a particular role. Take the initiative to maintain a good relationship with all of your candidates as a way to build the talent pool. All it takes is a response to their applications, regardless of the results.
As employers start to prioritize
passive candidates
, you would want to invest more in candidate nurturing as soon as they show interest in your company. A good sourcing strategy must entail frequent communication, and one way to do that is through an integrated communication tool.
If you don't already have one, consider using an ATS that takes care of the email alerts and notifications. However, keep in mind that generic auto-generated responses may hurt the candidate experience. In TalentCloud, all email templates are customizable so that recruiters are able to connect with the candidates on a more personal level. The use of placeholders further allows them to reach out and communicate with individual candidates at ease.
Here's a sample of a candidate outreach email: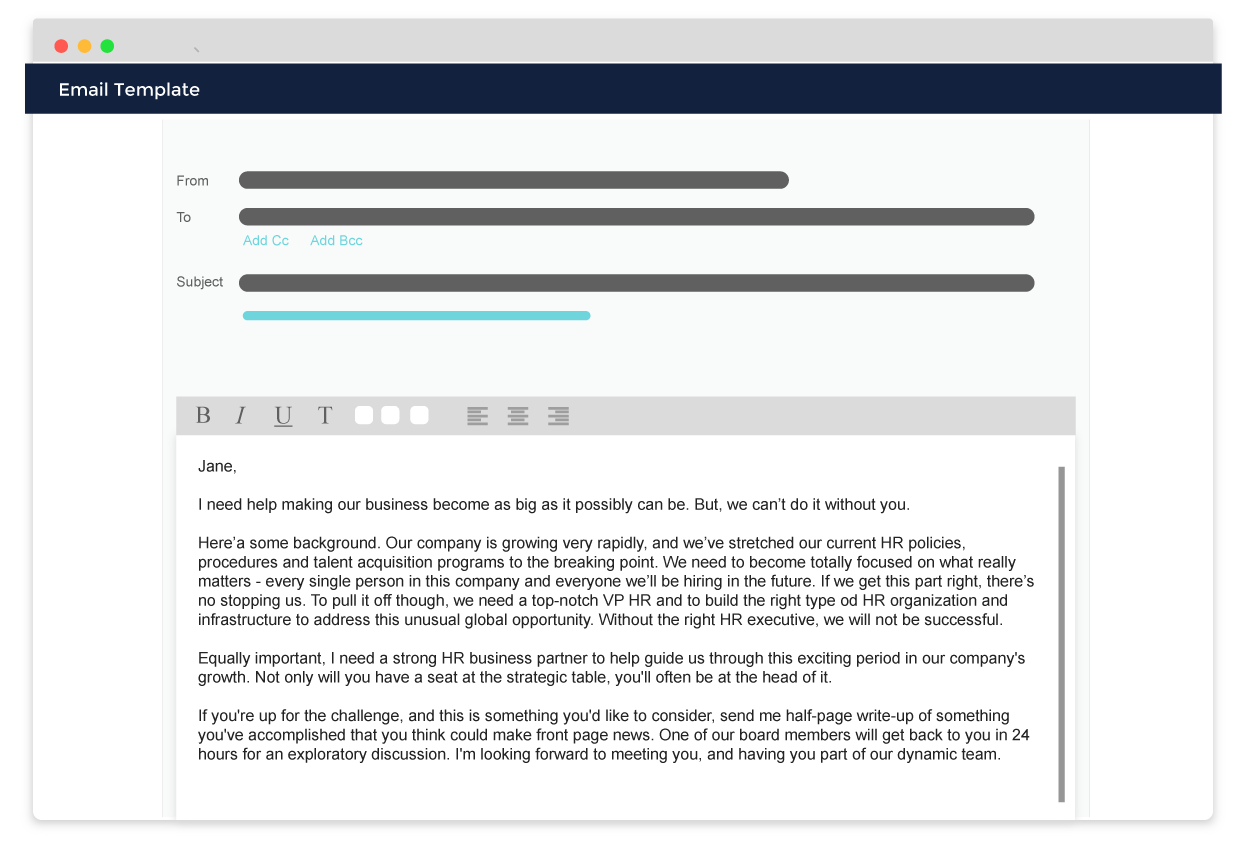 Hiring
The further a candidate moves into the funnel, the more expectations that he or she holds. Remember, you're probably not the only one who is going after a potential hire. So make sure that the assessment, interview, and selection processes are as painless as possible.
At this stage, your number one priority should be to showcase the best that you can offer, don't expect the candidates to do the talking. You can opt for the pre-interview assessment to avoid dragging the on-site interview unnecessarily. This feature is also available in TalentCloud, and the questionnaire or any other technical tests are fully customizable.
Do keep everyone in your recruitment team updated during the entire pipeline to make the best hiring decision. You only have to assign the responsible team members once, the ATS will notify them whenever there's an action required.
A smooth collaboration internally directly speeds up the hiring process. What happens after the interview session also determines the candidate's satisfactory level with your company, even up until the offering stage.
Consistent communication is the key to closing talents. Understand that, TalentCloud also offers the pre-boarding tool to assist your team to maintain close relationships with the new hires. As timing is everything, don't wait until they report to work to retain them.
These factors, simple as they may sound, are what constitute a positive candidate experience. The earlier you engage with the candidates, the more likely they'll stick around throughout the acquisition funnel. Not to mention the possibility for them to share good reviews of your company to other potential job seekers.